There's something magical about Christmas that makes us want to create our own decorations, and when we have a specific theme in mind, we want to have decorations that match that theme perfectly. That's why DIY Christmas decor and decorations are extremely popular right now, and we've rounded up 5 of the easiest DIY Christmas projects.
Frosty Mason Jar Lanterns
Source: Bored Bean
There are two ways to achieve a wonderfully festive frosted effect for your vases, candle votives, and mason jars. The first is to use faux snow and the second is to use epsom salt. Both require Mod Podge to adhere the frost to the glass. The faux snow creates more of a frosty look while the epsom salt creates more of an icy effect. Both ways look stunning and are super simple to create.
Twinkling Christmas Canvas Art
Source: Brass and Whatnots
Using LED lights to brighten up canvas art is a wildly trending DIY project right now. Why not take advantage of all the free tutorials and create your own Christmas version? You can have your twinkling canvas art say anything you want. From a meaningful line in your favorite Christmas carol to a family motto, your festive imagination is the limit.
Glitter Christmas Light Magnets
Source: A Diamond in the Stuff
In many homes, refrigerators lack the holiday spirit. Instead of having a bland fridge this year, dress it up with these incredibly easy and cute glittery Christmas light magnets. Use them to display your Christmas cards on your fridge or to keep your Christmas dinner shopping list close at hand.
Adorable Sock Snowmen
Source: Creative Me Inspired You
When you're looking for an irresitably adorable DIY Christmas decoration, make these super simple sock snowmen. These soft and cuddly snowmen are fantastic Christmas decorations for a kid's room, on your mantel, or just about anywhere in your home. If you have a guest staying with you for the holidays, put one of these snowmen on a pillow so your guest will feel comfortable and welcome.
DIY Recycled Christmas Window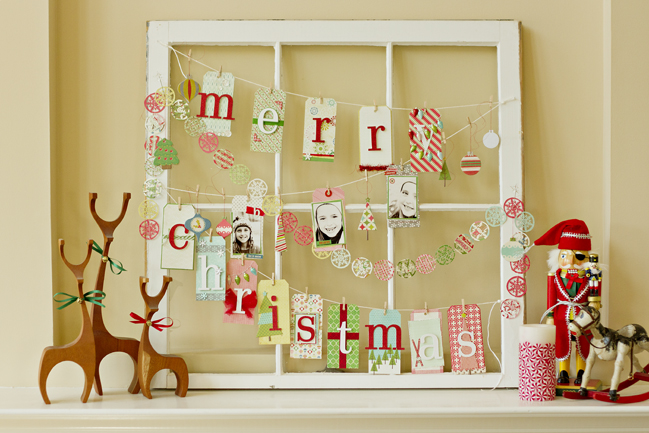 Source: Shimelle
For a personalized, colorful, and creative way to display your holiday spirit, make your own Christmas window out of a recycled window frame. Use photos of your friends and family and cute out tiny trees or snowflakes from colorful scrapbook paper. Then display it on your mantel or hang it on a wall for everyone to see.
Article written by Kelly Mahan, also a writer for Homeyou.com, a company that connects homeowners to reliable, affordable and professional contractors for their home improvement projects. Check more on Instagram, Pinterest and Twitter.