Tight decorating budget? Forget designer stores and their exorbitant price tags. Sometimes a few simple tweaks can make all the difference to updating your home, and we're here to give you some tips so you can do just that. We're not talking a complete renovation here but you can give your home a bit of a makeover without spending up large.
Try these simple interior design ideas to give your rooms a lift and keep your bank balance in check.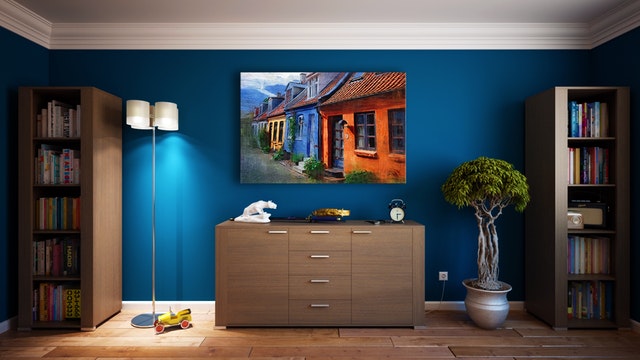 1. Start With a New Color
One of the most affordable ways to give a room a fresh new look is to update its color scheme. With so many gorgeous paint colors on trend, the hard part isn't the painting but choosing what hue you want! Not sure whether you want to go bold and dramatic, or soft and understated with paint? Check out Houzz for some home decor ideas.
If you want a different look, but don't want to paint an entire room, a timesaving solution is to paint interior doors a glossy black. This adds instant glamour and is also easy on your wallet. Introduce black accessories, such as cushions, a vase, a rug or a lamp, to tie the doors in with the rest of the room.
2. Try a Different Layout
Moving your furniture around, taking out pieces you don't like and adding items and accessories from other rooms and can make a big impact. And it costs you nothing! Always ask for help moving large pieces of furniture, back strain isn't part of the makeover agenda.
3. Swap out Your Soft Furnishings
If your room is neutral in its paint scheme then a cost-effective way to make a statement is to get rid of outdated soft furnishings and update as follows.
Different Bedding
We tend to hold onto our bedding religiously but ancient duvet covers and faded comforters can really bring a bedroom down. Buying high-quality bedding will cost you less than renovating the whole room and adding something with a pop of color will create a focal point.
Buy a New Rug
Pick out a new rug that people can't help but notice. A great area rug can do wonders for grounding a room and tie the whole interior design together. If you're not sure what to do first then start with the floor, and be bold.
Change Cushions

If you can't afford a new sofa then the next best thing is to to swap out your cushions for something more stylish. The golden rule for picking the right color for cushions is to identify two to three complimentary colors already existing in the room, for example, from the curtains, an artwork or a vase, to pull together all the elements in the room.
4. Introduce Key Lighting
Lighting is a necessity in a room but often it can be functional and, to be honest, a bit boring. Luckily for you, replacing a light fixture, table or floor lamp is an easy fix that can make your home look high-end without that hefty price tag. Second hand stores can hold some real treasures and these are typically budget friendly. Upcycling is also a popular craze if you're craft minded.
Adding the right lighting to a room can instantly change the look and feel of a space. General, task and accent lighting are the three main lighting sources you should consider depending on what the room is used for. Check out these living room ideas for setting up proper lighting as well as some decoration ideas.
5. Accessorize With Mirrors
A budget friendly alternative to art is to use a mirror. There are plenty to choose from, mirrors come in lots of different sizes, shapes and styles, ranging from antique, to modern. The main purpose of using a mirror in a room is not to check your hair but to reflect light and to make a room appear bigger and brighter. They're also versatile enough to be hung in any room of the house, you can use one for a unique focal point in a bedroom design, hang a few in an awkwardly placed stairwell or a pint-sized one in a powder room.
6. Declutter for Instant Minimalism
The last, but not least, of our interior design ideas on a budget, decluttering. It won't cost you a thing and getting rid of excess furniture is a brilliant way to give your home a new minimalist look. Not only is decluttering free, if you sell your unwanted furniture on eBay you'll make money on the deal and feel good about helping the planet at the same time.
Alternatively, if you can't bear to part with anything or are renting an apartment, invest in some smart storage to give your rooms an instant minimalist makeover. You'll be amazed at how much lighter and roomier your space will look and feel!
Author's Bio
Angela Pearse is a blogger for Zumper who frequently combines travel with freelance writing. She's passionate about Art Deco hotels, historical novels, Netflix, hiking and healthy living.