Apart from being incredibly stylish, shutters are among the most practical ways to protect your windows and yourself. Say goodbye to tangled curtains and tedious processes of taking them off, washing them and then having to hang them up again. Not only are shutters easy to use, but they also protect your windows from stains and various cooking smells. Many people are reluctant to embark on the adventure of buying shutters due to ignorance on how easy the maintenance process actually is. This is where we come in to make your life easier and persuade you to make the right choice.
Dusting slats
In order to keep them tidy, you just need to dust the louvres or panels using a microfibre cloth or even a feather duster. Just manipulate the position of the slats to flat and you'll be able to reach both sides well. It's important to keep your shutters away from water, especially if they're made of wood as this is not the best combination. You can also use tiny vacuum cleaners instead of cloths if it's more your cup of tea.
Wiping more serious stains
The amount of dust or dirt on your shutters depends greatly on the room you put them in. They can catch more dust if they're in a room with a fireplace or even become greasy if placed in a kitchen. Regardless of how careful you are, grease gathers on surfaces simply via air and there's nothing you can do about it. Luckily, the cleaning process doesn't get any more complicated than dusting. Simply use a damp, not wet, cloth and wipe the surfaces.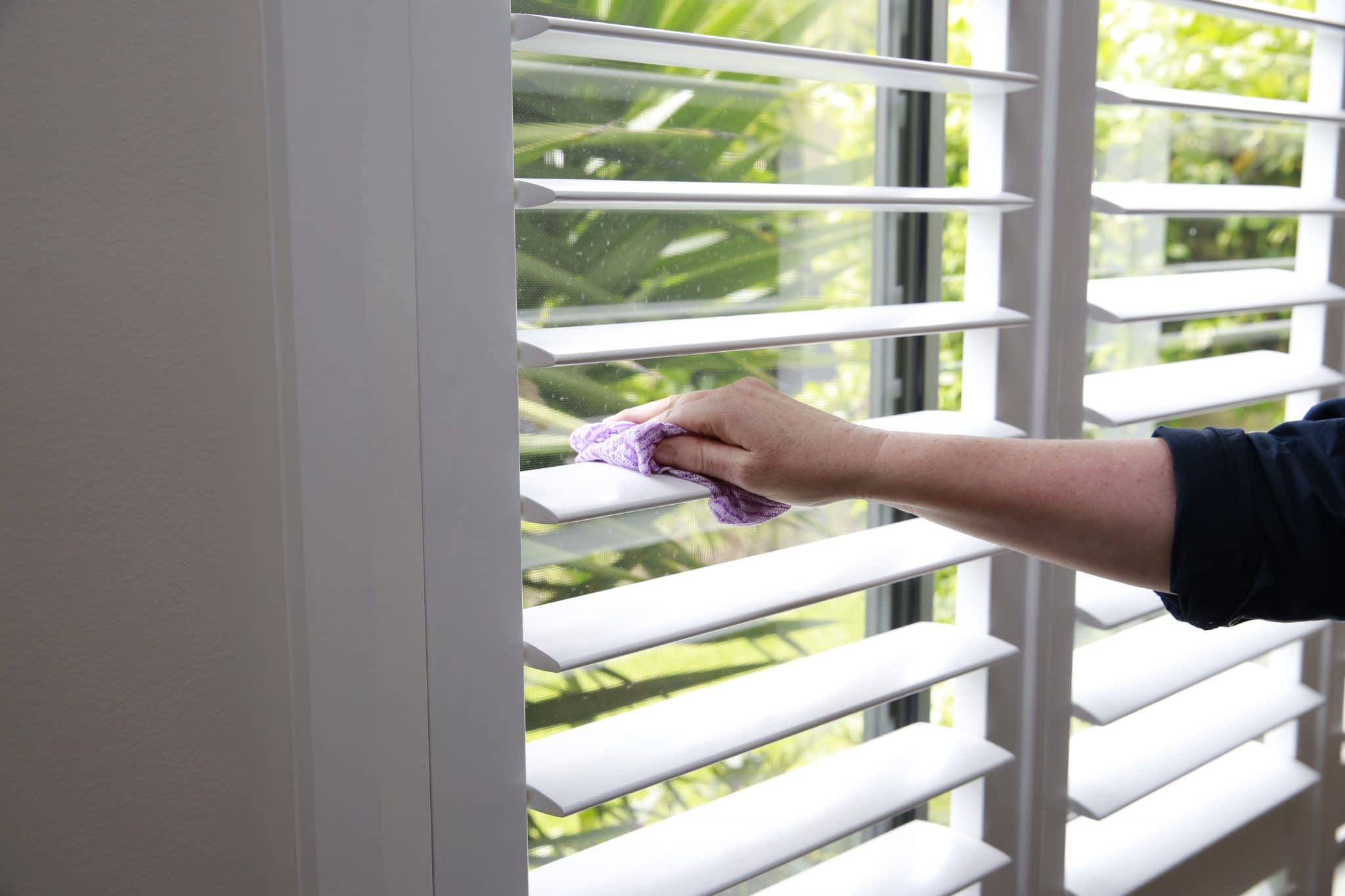 Opening and closing
It's important to obey the instructions in order to keep your shutters functional. Never pull the panels open by using the rod for tilting. It can cause serious damage. Instead, tilt the louvres and use the stile to tug them open. There are some variations on the matter. For instance, archtop shutters can close only in the up position. If you try to close them otherwise, they will break. However, if you stick to the instructions, there should be no harm done.
Tightening and loosening louvres
Louvres can become loose over time and they may not be able to stay in the position you'd want them in. This surely isn't the time to call for outside help. You just need an appropriate screwdriver to tighten shutter panels on both sides and your shutters will be as good as new. You can also loosen them in case they are too difficult to move.
Paint scratches
The probability of the paint getting scratched is very high, unfortunately, especially if there is a lot of human interaction in the close proximity of the shutters in the room. It simply happens sometimes, but it's nothing to stress too much about. It is a custom to get some extra paint during the installation of the shutters, if this is not offered, you can and should always ask for extra paint in case scratches occur. After that, you just need a small foam brush and a bit of paint to mask it and it will be undetectable.
Basically, this is all you need to know about the maintenance. You must admit it's super smooth. Of course, there's always a chance of a malfunction that requires a bit more savvy and tools other than a screwdriver, but that's when professional help comes in, just like with anything else in the house. So, go ahead and take that leap of buying shutters, you'll get rid of tedious chores and be able to enrich your room design, as well.