In today's fast-paced and increasingly urbanized world, people spend a significant portion of their lives indoors. Whether it's for work or leisure, our modern lifestyles often confine us to enclosed spaces. However, a growing movement known as biophilic design seeks to change that. Biophilic design is an innovative approach that aims to incorporate elements of nature into indoor spaces, blurring the boundaries between the indoors and outdoors and creating a more balanced and harmonious living environment. In this article, we will explore the concept of biophilic design and how it can be effectively incorporated into your apartment.
What is Biophilic Design?
Biophilic design is rooted in the concept of biophilia, which refers to the innate human tendency to seek a connection with nature. Humans have had a profound and instinctual bond with the natural world throughout our evolutionary history. Research has shown that this connection to nature can positively affect our mental and physical well-being. Biophilic design seeks to harness these benefits by integrating natural elements and patterns into the built environment, enabling us to reconnect with nature even indoors.
Incorporating Biophilic Design into Your Apartment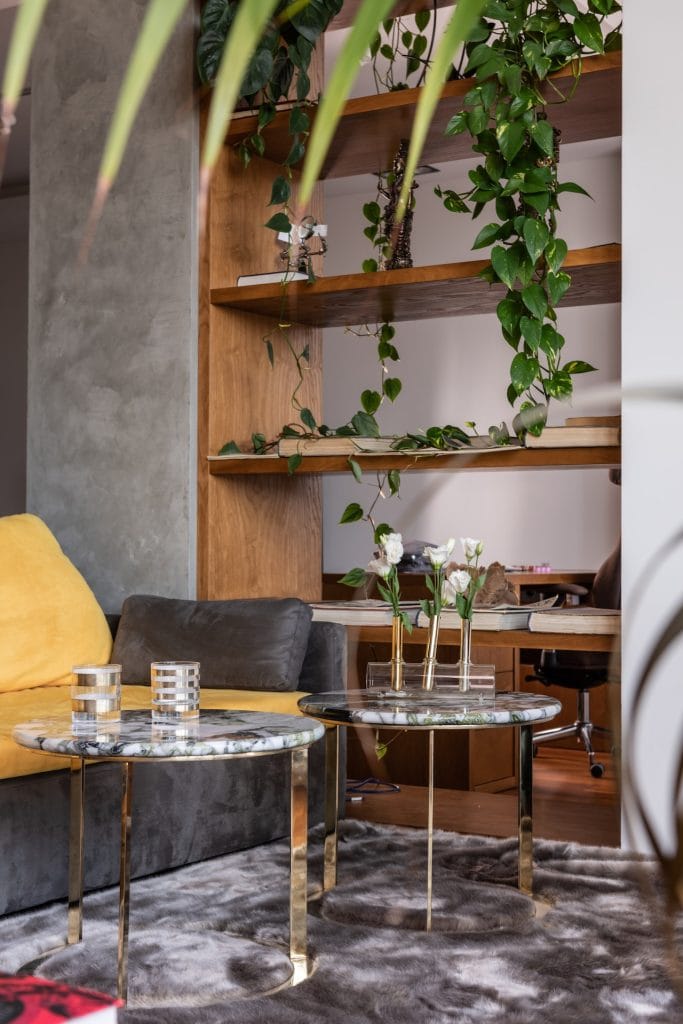 There are several ways to incorporate biophilic design principles into your apartment. One fundamental aspect is the use of natural materials and elements. By integrating materials such as wood, stone, and water features, you can connect with the outdoors, bringing a touch of nature inside and reducing the dominance of artificial elements in your living space.
Another effective strategy is to create patterns inspired by nature. Textures, colors, and shapes that mimic natural forms, such as leaves, branches, and flowers, can evoke a sense of peace and tranquility. These patterns can be incorporated into various decorative elements, including wallpaper, upholstery, and rugs, enhancing the overall biophilic atmosphere.
Furthermore, installing windows that maximize natural light and provide outside views is essential to biophilic design. Access to natural daylight has been linked to improved well-being and productivity, while views of nature can evoke a sense of calm and relaxation. Consider incorporating window treatments that allow you to control the level of natural light entering the space, creating a harmonious balance between the indoors and outdoors.
The Trend of Biophilic Design in Real Estate
Biophilic design is gaining popularity in the real estate industry as people become increasingly aware of the benefits of connecting with nature. Potential homebuyers and renters actively seek living spaces that prioritize natural elements and promote wellness. In response to this demand, developers and builders are incorporating biophilic design elements into their projects, ranging from green walls and rooftop gardens to advanced natural light and ventilation systems. These features not only enhance the aesthetic appeal of the property but also contribute to the well-being of its occupants.
Biophilic Design in Residential and Office Buildings
Architects and building owners are pivotal in incorporating biophilic design into residential and office buildings. By selecting natural elements and materials for the building's fabric, such as wood, stone, and other sustainable materials, they can establish a stronger connection between the built environment and the natural world.
Biophilic design can also be integrated into the architectural design and shape of the building itself. Features such as green roofs, living walls, and atriums can bring nature directly into the interior spaces, providing occupants with a seamless transition between the indoors and outdoors. Additionally, building owners can encourage using biophilic design elements in tenant spaces by offering resources and incentives. This can include educating tenants about the benefits of biophilic design and offering financial assistance to those who wish to incorporate these elements into their living or working spaces.
Trends in Biophilic Design in Urban Real Estate
As the world's population grows, housing and office space demand in urban areas is rising. This trend has resulted in higher-density living and working environments, making it more challenging to incorporate natural elements into the built environment. However, biophilic design is gaining traction in urban real estate, particularly in high-rise rental units. The therapeutic value of connecting with nature is being increasingly recognized, and tenants are beginning to prioritize living spaces that promote wellness, relaxation, and a stronger bond with the natural world.
Conclusion
Biophilic design is a powerful concept that seeks to restore our connection with nature in the modern built environment. As the awareness of its benefits continues to grow, it will likely become a standard element in modern building structures. Architects, developers, and building owners embrace biophilic design principles and strive to create spaces that prioritize wellness, sustainability, and our innate desire to connect with the natural world. By incorporating biophilic design into our apartments, we can enhance our well-being, reduce stress levels, and create a more harmonious and balanced living environment that nurtures both our physical and mental health.