Although the first thing that comes to mind when designing a stylish bedroom with a masculine vibe is simplicity, this decorating task actually requires more effort and skill than you might think. You need to create a balanced look that will be both functional and stylish, while also creating an ambience of comfort and tranquillity.
Choosing the right bed
Not only should your bed ensure that you get a good night's sleep, but it can also be a stylish statement piece in your bedroom. It's important that you choose the right mattress that will provide appropriate support for your back. Buying a mattress separate from the frame will provide you with more options when it comes to design and comfort. Since the bed is also the focal point of the room, you should opt for a frame that reflects your personal taste and the general style of the room. You can go with a bold design, conspicuous hues and stylish materials, such as metal or rich wood. Since your bed will bring both comfort and style to your room, you shouldn't hesitate to invest a bit more to ensure the best quality.

Setting the mood with lighting
Lighting is an important element of interior design, and it can greatly influence the general atmosphere of the room. Subtlety is the best policy when it comes to lighting. Of course, that doesn't mean that you can't use lighting fixtures as stylish details. Dimmers are always a trendy and functional solution because you can adjust the light depending on your needs. You can have brighter light when reading, and then reduce the intensity when you want to create a relaxing or intimate atmosphere. Downlights are another great choice because you can experiment with their position and spread them across the ceiling.
Introducing mirrors
If you have a small bedroom, adding mirrors will help you create an illusion of spaciousness and openness. However, there's no reason why you can't use mirrors as stylish accessories at the same time. You can experiment with the size and shape, and use intricately designed frames to emphasise the style of your bedroom. When it comes to placing the mirrors, there are several options. If you don't have much space, you can always place them on the closet doors. According to feng shui principles, you can bring calmness into your room by placing a mirror opposite the window. Since a mirror directly facing your bed isn't actually advisable, you can opt for a subtler solution – place it either on the side or in the corner of your room slightly facing your bed.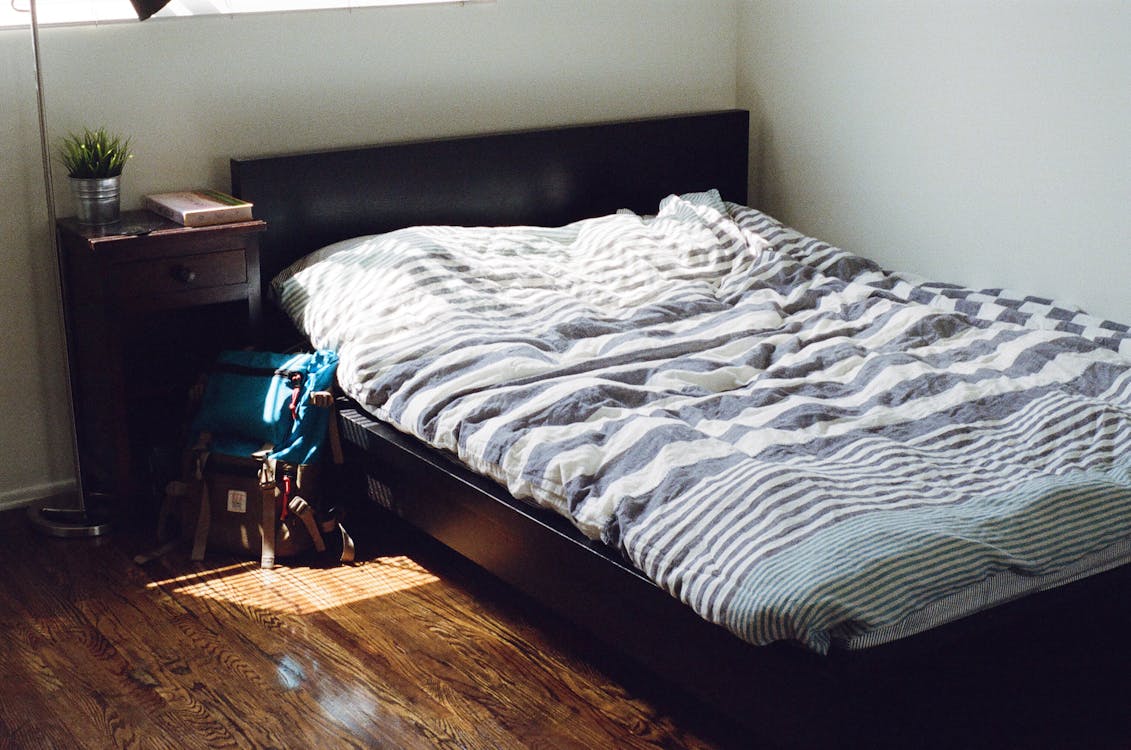 Trendy colour scheme
Long past are the days when only blue was considered to be the colour for boys. The colour scheme for your bedroom can include a variety of hues that will introduce a masculine vibe. A popular trend is mixing black, grey, white and gold, but if your bedroom is really small, you should go with more neutral and brighter shades. If you're not a fan of white, you can always go with a pale grey for the backdrop and then use bolder hues for accent pieces. Of course, if you like blue, you can always experiment with different hues – deeper shades of blue combined with yellow is quite a stylish choice.
Adding a personal touch
Your bedrooms should reflect your personality and style, so don't be afraid to add a personal touch to your room. Artwork is always a great way to add both character and style to your bedroom. You can display your favourite pieces and use them to create a cohesive look. For example, you can use colours and shapes that reflect the style of the room. You can also display your favourite books, or a collection of personal items. Interior design provides a lot of opportunities for self-expression, so don't hesitate to use them.
With the right approach and several trendy ideas, you can easily design a unique bedroom with a masculine vibe.