Who doesn't want to throw themselves on a comfy bed after a hectic day at work? Everyone wants to have a place where they can relax and peace out. After all, sleeping always refills energy levels in an individual. 
A comfortable bed with a relaxing atmosphere guarantees you a good night's sleep. Therefore, it's imperative to invest in a reliable bed set – because no one should compromise on sleep. If you are skeptical about your choice, look for Scandia Home luxury bedding for some breath-taking designs and ideas. 
Not having enough sleep at night can drain your energy levels and make you feel lethargic all the time. It usually happens when your mattress is hard, or your pillow is too high, leaving your neck muscles in discomfort. If you think that your bed needs alterations since you don't find it satisfying, have a look at these tips to make your bed more comfortable. 
Invest in Soft Pillows
You might think hard pillows help in keeping head straight up to avoid neck pains. These are nothing but myths because if a pillow is hard, it can result in headaches and back pains. The pillows are supposed to be soft so that you sleep comfortably, but it doesn't mean you can grab any soft cushion. 
Some soft pillows may not be a burden on your pocket, but they can cost your muscles a great deal because these get bland after some time. You might wonder why does it cost so much? Well, the good ones are expensive but worth every penny. They have high-quality foam and microfibers, allowing you to sleep better. They are also made up of breathable material, allowing air to pass through it. 
A Lavish Comforter
It's right to say that a bed is incomplete without an excellent comforter, a savior from the cold. A lavish comforter is weightless and breathable, letting the air pass through, so you don't feel suffocated with your head down in it. 
Investing in a lavish comforter could be the best thing to do because of its durability. So, don't step back when it comes to spending on a down comforter. 
Mattress Toppers
Who doesn't like a cozy yet comfortable bed? Mattress toppers are designed to make your bed softer and relaxing. It's a great way to add a layer of comfort on your bed without the need of spending too much. Moreover, it also enhances the quality of your sleep. 
Some people complain of having pressure points, and a mattress topper is known to reduce these points due to its extra soft and smooth material. So, if you think your mattress isn't like how you want it to be, get yourself a mattress topper. Apart from being super affordable, it's readily available too!
Thicker bedsheets
Don't you think thin bed sheets are too last year now? Everyone wants thicker bedsheets on a cozy bed for a peaceful sleep at night. The rule for comfortable beds is loads and loads of foam, and this makes the bed incredibly soft.
Thicker bed sheets have a smooth and soft texture, helping your skin recline against it. Experts suggest 'linen bed sheets over cotton ones' because they are more calming. 
Get a Body Pillow
Pampering yourself isn't a bad thing at all. In this growing era of competition, self-love is essential. So how about getting a body pillow? This pillow is more relaxing than it sounds. It comes in different sizes and variations so select the one based on your body size, weight, height, and sleeping style. 
The most popular one is the 'U-shaped body pillow.' Most people think it's for pregnant women, but everyone else is free to use and relax from it. It's the most comfortable thing you can get because it provides support to your whole body. 
From teens to adults, everyone complains of body pains and aches, this pillow allows your body to unwind by providing rest to your head, hips, and back correctly. Once you get used to this pillow, there's no way you're sleeping without it. 
Cozy canopies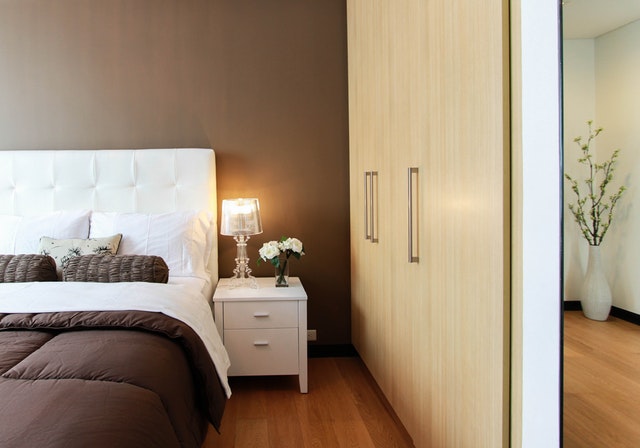 Canopies make beds cozy and comfy, adding a layer of amenity. It's just a fabric draped on the corners of the bed, and many people like it because it creates a relaxing atmosphere in the room. Usually, these canopies make couches look like a shell due to which people feel comfortable. 
Moreover, these canopies make your room look more pleasant and aesthetic. However, if you like an open environment, then getting canopies won't be the ideal choice for you. 
Scented Candles
Sometimes, the conditions of the city possess a tacky smell in the atmosphere. It can ruin the environment of your house too. Here's when you can use some scented candles to breathe the layer of peace and comfort.
You can select the fragrance as per your liking, and it comes in different flavors. You can light this up anytime, even when you're off to sleep. It would light up your whole room with an amazing smell, making you feel relaxed and comfortable in the bed. 
Grab a Silk Pillow Cover
Believe it or not, silk is one of the softest and soothing fabrics. Don't you feel super comfy and soft while wearing silk clothes? You can get silk pillow covers to make your bed more comfortable. 
For all those people who have sensitive skin, this can be your ultimate option. The soft texture would complement your skin, helping you sleep peacefully. Moreover, it's the best pillow cover for summers because silk has a surface that stays frigid all the time. As far as the cost is concerned, it comes in affordable price ranges.
A Fluffy Throw on the Top
There is an inner child in all of us who loves fluffy toys, rugs, cushions, and pillows. Unsurprisingly, fluffy things are very satisfying and comfortable. You can play with the softness of fluffs all day long. If you enjoy it, then get yourself a fluffy throw, which you can spread on the top of your bed. 
If you are in a cold region, then you can also look for a fluffy blanket. The only drawback is that it would make it very difficult for you to get out of bed. 
Final Verdict 
Lack of comfort can disrupt sleep, which hinders your performance the whole day. When it comes to relaxing and chilling, you don't have to make any compromise and design your bed as comfy as possible. If you don't know how to go about it, have a look above for tips to make your bed more comfortable.