Aquariums are always a nice part of home décor, as they can add a pop of color to an otherwise neutral space, and they can be very entertaining to look at. However, besides being aesthetically pleasing, they are also beneficial to your health. Studies have shown that aquariums can help reduce anxiety, stress, and pain. They can also help you sleep better, and they can boost your creativity when needed. 
These are just some of the reasons why aquariums are so popular today, especially in bigger residential units. Additionally, sometimes, architects simply need to fill in some extra space, and aquariums are perfect for that. So, if you've been thinking about adding it to your home interior, here are a few things you should know about it. 
For bigger spaces
If you'd like to add an aquarium to your restaurant, office, or larger home, you should opt for a bigger aquarium that can become a part of the room. Some may take the form of freestanding furniture, some may look like sculptures, while some may serve as custom wall units. Regardless of how you choose to implement your aquarium, it is bound to draw attention.
Aquariums are perfect for more nature-based themes, and there is no better way to breathe life into the room. Moreover, such aquariums are much more than mere entertainment that you can focus on when bored. They are works of art, created in a way that can engage the view for much longer than a few minutes.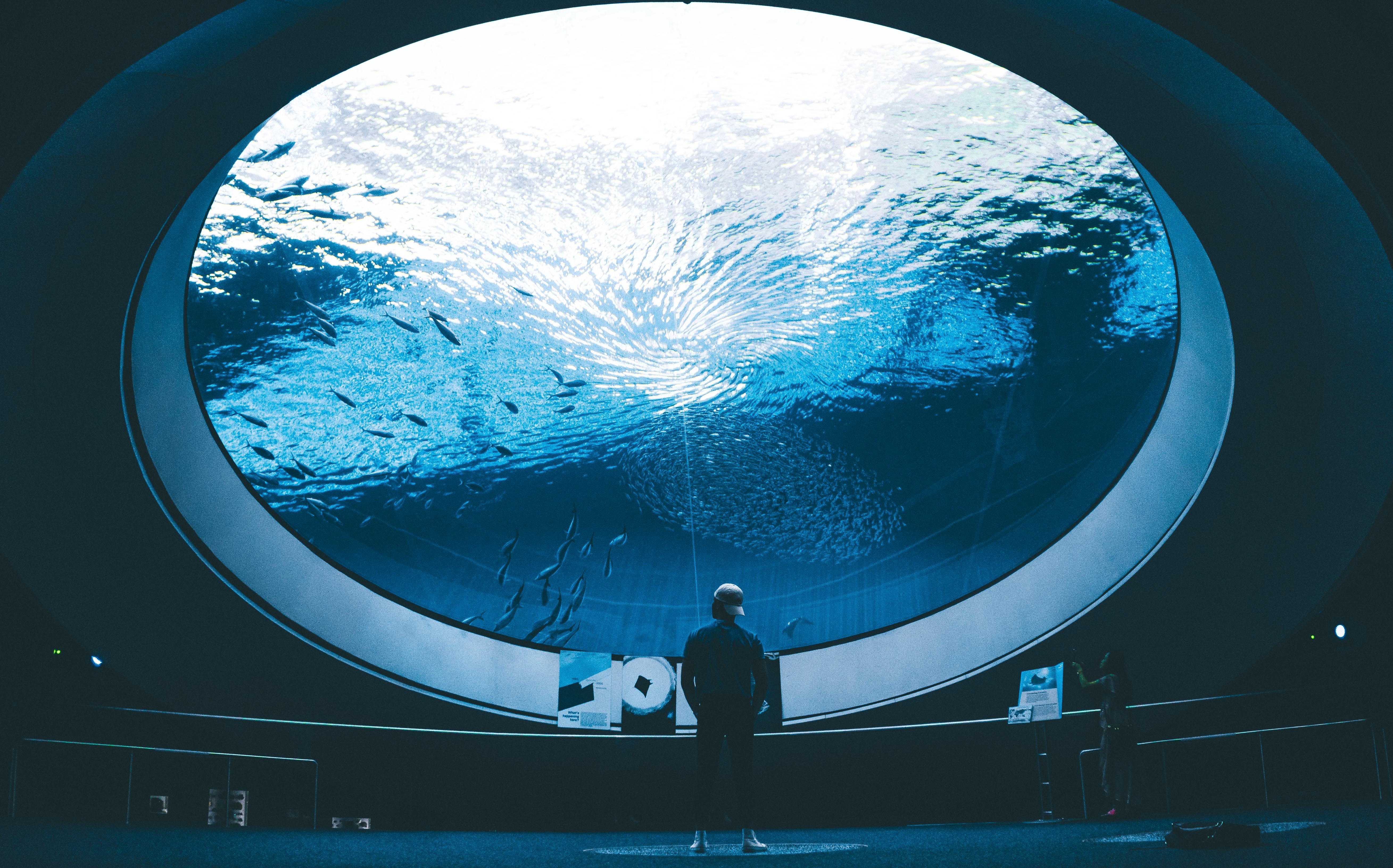 When it comes to the designs, you can choose anything from minimalistic sea scenes with sand, some plants, rocks, and sculptures, to huge sceneries with corals, crabs, clams, and everything else that suits the idea of a living-reef tank. In this case, the aquarium is not just a typical art piece – it moves, and it grows, as everything in it is constantly evolving. 
If you're looking for inspiration, you can search for projects done by Martin Schapira, a co-founder and a lead designer of Okeanos Aquascaping. He's done many impressive works, but one of his most breathtaking ones is definitely the 900-gallon aquarium with color-changing LED lights. It was done in Lagos, Nigeria, and it functions as one of the main features of a dance floor. Plus, to complement the black-and-white theme of the room, Martin stocked the aquarium with 60 Banggai Cardinalfish, which are silver with black stripes and fit the theme perfectly. So, if you have a specific color scheme in your restaurant or home, think about doing something similar. 
Home-based aquariums
When talking about smaller, home-based aquariums, one of the main advantages is that anybody can have one. Even if you have a small apartment, you can easily find an aquarium that would be suitable for it. Plus, the usual "no pets" rule generally doesn't apply to fish, so if you happen to live in a dorm room or a rented apartment, this might be a good pet for you. It's also great for kids, since fish can be good starter pets to teach them some responsibility. However, you should keep in mind that aquariums require regular maintenance, so you need to have time for that.
Moreover, if you like the Feng Shui style, you're probably well familiar with the importance and meaning of the water element as well as numbers. A nice aquarium can help you create a harmonious balance in your home, and having eight fish in it can bring you good luck. Although it might not make you rich or make all your problems disappear, it can still help you de-stress, relax, think more clearly, and thus, find solutions to your problems on your own. 
Regardless of whether you're decorating a smaller apartment or a huge restaurant, installing an aquarium can really boost the style of your property. Not to mention all the health benefits it comes with. So, if this is something you've been thinking about, do your research on different types of aquariums and maintenance requirements, and the space you decorate with it is bound to look better than you could imagine. 
This is a guest post by John Basta.