Creating a decor around a single piece you love can make your life easier. You don't have to think of a certain decor style, and rampage through furniture stores and flea markets to find every single piece that fits. Do it in reverse, find something you would just love to have as a regular addition to your interiors. Then, hunt down the matching items.
The Right Coffee Table
In order to deliver an excellent example of what we are referring to, we teamed up with Chairish (we just love the name of their website). We consulted with them and made a stlyeboard that uses one of their coffee tables as the star item. Everything else was easy-peasy. The coffee table in question is Large Gold Finish Iron and Glass Top Coffee Table. Check out the styleboard below.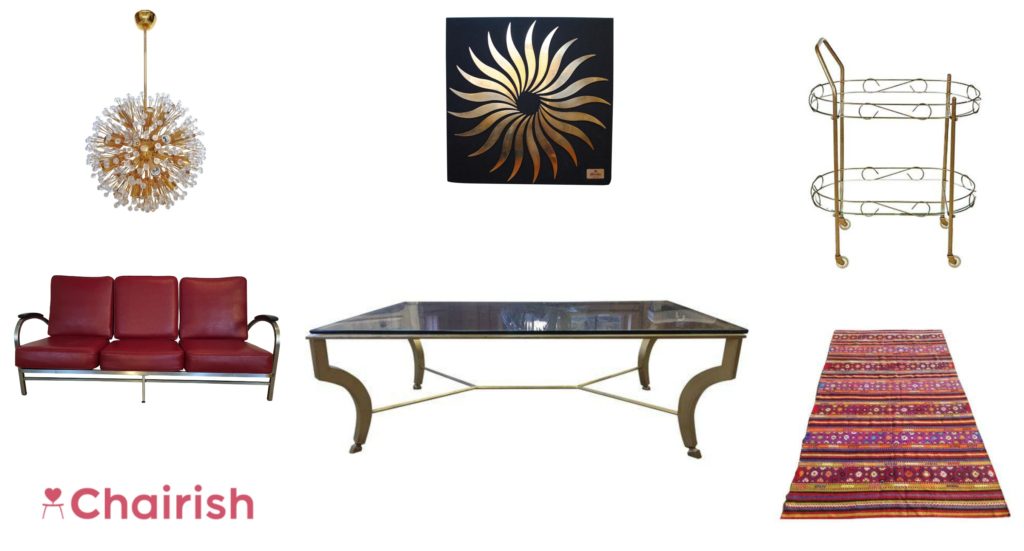 We aimed at merging the metal decor with a touch of Bohemian spirit (just look at the carpet). 🙂
Surrounding Elements & Coffee Table Accessories
The rest of this setup includes other products from their amazing shop:
Starburst Chandelier
Royal Metal Art Deco Style Red Vinyl Sofa
Mid-Century Modern Brass Sculpture Sands Casino
60s Gilt Metal & Glass Rolling Cart
Vintage Pink Turkish Kilim Rug
We hope you enjoyed this lovely styleboard and be sure to check out Chairish!