After a tiring day, we probably just want to relax on our patio or on our deck. Additionally, we spend most of our time there while entertaining our friends and relatives.  Being said that, making our deck comfortable is very crucial. The best way to start doing a patio or deck make over is through your flooring.
Here are some flooring ideas for you.
Traditional Wood Decking
Wood flooring is one of the most adaptable kinds since it looks good on any furniture and fixture. It can also be very versatile in terms of appearance because it can give a rustic ambiance that can be very laid back but with a modern touch. With wood, you will be sure that your choice will not go out of style.
Tile Flooring
Making tiles as your flooring can have many benefits. First, tiles can be very flexible because there are countless of designs you can choose from. There are tiles that look exactly like a stone to give your patio a natural-looking one, or you can select a contemporary design. Second, it is very affordable, especially when compared to other floorings. Applying tiles can only cost you around $2 – $15 per square foot depending on the design, quality, and size that you want. Lastly, tiles are very easy to maintain as you just have to occasionally sweep or mop the area. Sun and rain don't damage them, unlike wood floorings.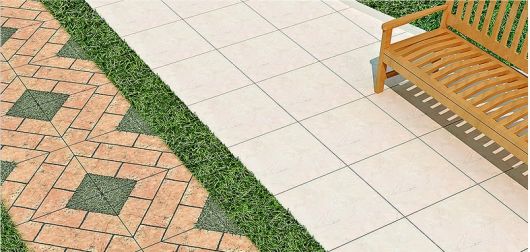 Artificial Grass
A high-quality artificial grass looks and feels like a real one already. Additionally, using this kind of flooring can also be very convenient for you. Unlike real grass, you do not have to worry about spending a lot of time mowing the lawn just to maintain the grass. You do not also need to water or set up a sprinkler for it. It can be a great alternative if you have allergies to real grass. While it is true that artificial grass is more expensive than that of a real one, just imagine how much you can save from maintaining it all throughout the year.
Concrete
If you are thinking concrete can be very boring for a patio floor, think again. You can use staining or stamping methods to vamp up your concrete and create a stylish design on your patio. Firth an expert in concrete paving says that another reason why you should choose concrete is that you will undoubtedly be able to keep it for the entire time you live there. It can also be very easy to clean and it is a super cheap option.
Brick
Bricks can give you a lot of flexibility in your flooring because there are so many designs and patterns you can do with it. As a very durable material, it can cost you a lot up front but you will still be able to technically save money from it because it doesn't break unless you do it intentionally. It is also a slip resistant material. You also just have to do minimal works to maintain your flooring.
Rubber Flooring
Rubber flooring can be a very affordable option for you. It will just cost you $2 per square foot but there are still more expensive choices but they are still cheap enough compared to other flooring types. Additionally, rubber floorings are very comfortable for walking. It is highly advisable to use this if you have small children or older people in your house because rubber floorings are slip resistant even if it gets wet. Just do not expect that much longevity to your rubber floors and you might have to replace it after some time.
Foam Tiles
Even though foam tiles are not created the same, there are still a lot of benefits. Just try to be specific if you will put it indoors or outdoors. Foam tiles are best for floorings beside the pool area because they are very slip-resistant and they are anti-mold and mildew. However, the downside is it is the least durable materials on this list.
Outdoor Carpet
Carpets can generally feel you more comfortable as it gives the more homey feel. It can make hanging outside more relaxed compared to other materials like bricks and tiles. When it comes to style, carpets have a lot of styles available in the market. You can mix and match the design to make it look better. It is a very cheap material because it can cost as low as $1 but it requires a lot of maintenance to keep it in good shape.
Stone Steps
While the stone material is very expensive, buying one can ensure that it will last for a very long time and it doesn't need extensive maintenance. For some cases, you don't even have to sweep or clean it. It can add a simple but natural feel to your home. Just consider putting in some natural designs for your outdoor flooring needs.
Patterned Patio
You can use different materials to make a patterned patio. For instance, a checkered flooring design with an oversized green and white color can be best for red handprints on the edges. With this kind of patio, your imagination is the limit. You can do a lot of design whether you want a retro, contemporary, or modern ambiance to your whole deck.