When I think of summer I almost always immediately think of all the opportunities that we have to gather with our friends in family in our home! The kids are out of school, the days are warmer and the nights start later, all perfect ingredients to a fantastic summer. I don't know about you but I love making my home as welcoming as possible when guests come over. From making my living room feel stylish and warm to my backyard being functional and fun, I strive to have my house feel like a perfect place for friends and family. And it starts at the front door! Welcome to the people you like most with these incredible summer DIY wreaths!
Dollar Store American Flag Wreath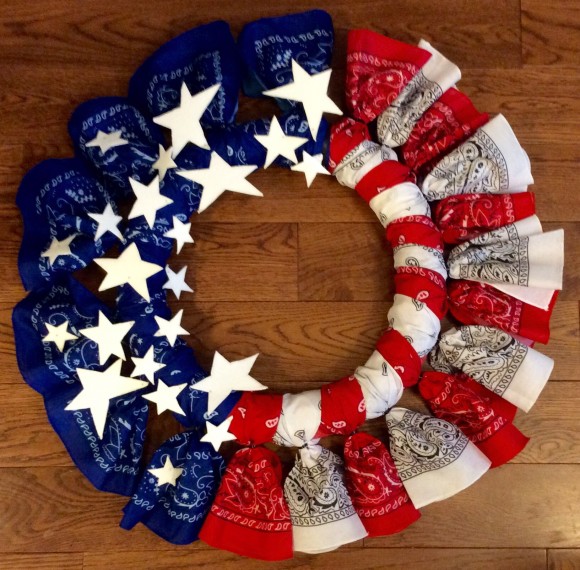 Credits: dollarstorecrafts
This patriotic beauty takes only a few minutes to make, a few dollars to buy and will make your door look beautiful for Fourth of July and beyond!
The Hanging Wreath
Credits: somewhere-in-the-middle
This wreath looks like something out of the forest! Simple and beautiful, the wreath is perfect for dark doorways that need lightened up!
The Letter Says is All
Credits: sugarbeecrafts
Represent your family name while welcoming guests into your home. This simple to make, rustic wreath is the perfect way to personalize your entrance way.
Flip Flop Wreath
Credits: southernscraps.blogspot.com
This is another very easy and inexpensive wreath for your home! Head to the closest dollar store and grab a few pairs of children's flip flops and grab some old rags or clothes that you are getting rid of and make this! Nothing says fun in the sun like a pair of flip flops!
Succulent Wreath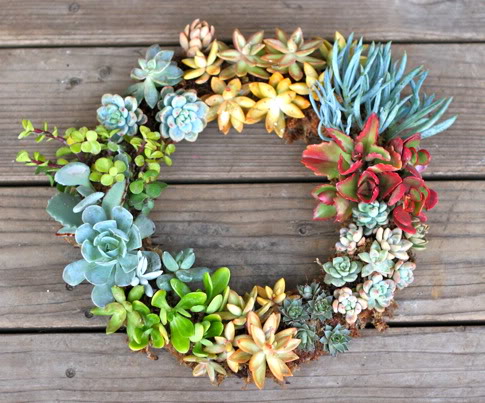 Credits: prettyprudent.com
Succulent projects have become very popular this year in large part due to the fact that they are so easy to take care of and inexpensive to find! This beautiful wreath will bring your front door to life!
Mini Umbrella Wreath
Credits: cfabbridesigns.com
I love summer afternoons by the pool with a cocktail topped with a mini umbrella! I don't know what it is but a cherry on of these can make any drink better! So head to the store and grab a few bags of these to make the perfect wreath for your home.
Take Me Out to The Ball Game Wreath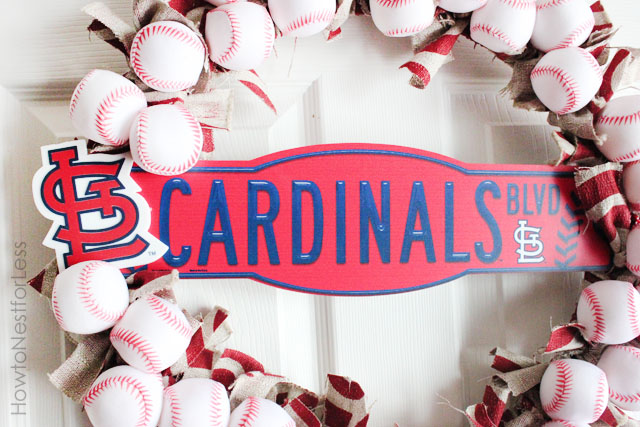 Credits: howtonestforless.com
Though never in my life would I put a Cardinals wreath on my door as a diehard Red Sox fan, I do have to say this wreath is pretty adorable even if it would look better with a different team! So grab your favorite team memorabilia and show off your team spirit!
Burlap Wreath for Beginners
Credits: howtomakeaburlapwreath.com
Burlap wreaths are beautiful but burlap can be a difficult material to use! This amazing tutorial will help you make the perfect burlap wreath for your home, with little to no DIY experience needed!
The "Gone to the Beach" Wreath
Credits: fynesdesigns.com
Let art imitate life for you beach bunnies out there! This adorable wreath is definitely for a more advanced level DIYer if you are going to sew these cute little swim suits but it's totally worth it!
Sandcastles and Sun Wreath
Credits: wordsuponwheels.blogspot.ca
I love upcycle projects and this by far the cutest I've seen in awhile! Upcycle those old beach towels and old pool noodles to create this wreath perfect for all summer long!
Wreaths are one of those perfect home decor items that anyone can do! Whether you live in an apartment, house, trailer, dorm or really anywhere else you can liven up your front door with any of these options! Make it so that when you walk in your door, your day and the days of you guests are brightened!
Article written by Tabbie Stark, also a writer for homeyou.com, a company that connects homeowners to reliable, affordable and professional contractors for their home improvement projects. Check more on Facebook, Instagram, Pinterest and Twitter.