Many of us buy a home with the hope of hosting friends and family for BBQs, family events and big holidays like Christmas. Unfortunately, this may not be possible for every home, especially if your backyard isn't very large, or you don't have a patio. A clever way to get around this is to repurpose the space you already have. A carport makes for the perfect multipurpose space: you can use the entirety of a carport or part of it to create an incredible entertaining area for your friends and family. Whether you no longer need your carport, or have space in your home for a carport but not an entire patio, there are a range of ways of repurposing your carport to turn it into an outdoor entertainment area.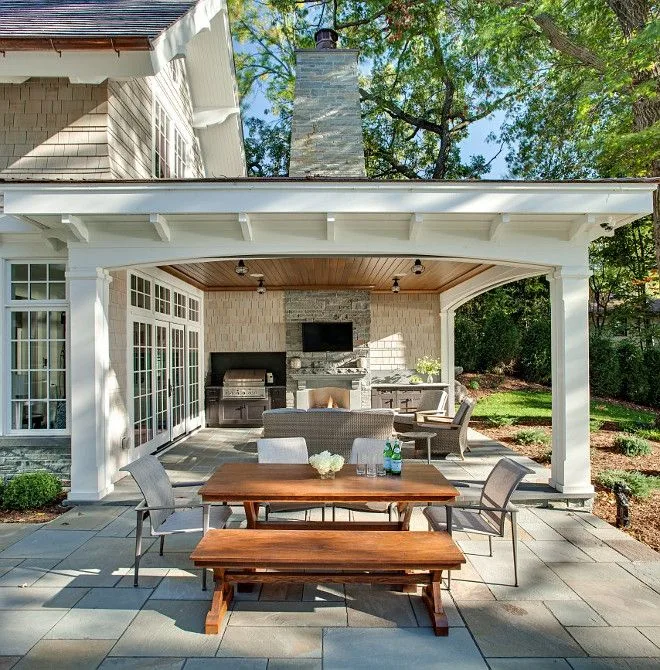 Repurposing your carport is an affordable outdoor entertaining solution, as you will not have to build a deck or put up any new structures. Additionally, guests will absolutely love being able to enjoy the outdoors while still having a roof over their heads. If your carport is situated close to the kitchen or dining areas, with quality flooring, you can easily leave the doors open and create a seamless entertaining experience between the spaces.
So what are you waiting for? Keep on reading to get inspiration for all the ways you could use your carport to entertain!
Barbeque Area
One of the simplest and most popular ways to repurpose your carport is to turn it into a BBQ area. Of course, the BBQ itself is the centre piece of this arrangement. Next, you have to arrange seating and tables. If you're working with a smaller space, simply add some deck chairs and a small table.
If you're lucky enough to have a much larger space available to you, invest in an entire dining table with chairs, and maybe even some fun outdoor swing chairs to really personalise the space, as well as a statement BBQ.
Dining Area
If your carport is accessible from the kitchen, you have a great opportunity to turn your carport into an outdoor dining area. By simply providing a dining table and chairs, you will be able to seamlessly integrate your indoor and outdoor spaces.
Guests will be able to mingle indoors or outdoors at their own leisure, and you will be able to easily bring out meals from the kitchen or top up drinks. This provides with the perfect summer entertaining area that is large enough to host all your extended family for Christmas.
Bar
Whether you're working with a smaller carport or want to add an extra touch to your outdoor dining area, consider transforming your carport into a bar. For this, all you need to do is attach some shelving to display your liquor bottles.
Integrating an outdoor cooler will make it easier to enjoy your drinks outside. Also consider adding bar stools or bench space around the perimeter of your carport, so that guests can mingle and relax over drinks.
Games Room
Carports can also be surprisingly good for turning into a games room or recreational space. Adding a ping pong table, foosball table or basketball hoop instantly gives you a space within your home to play games, dispel some stress and give your guests something fun to do when visiting.
Porch
Some homes may not have the benefit of a porch, or any kind of outdoor area that allows you to simply sit back and enjoy the fresh air. Carports prove to be a highly flexible solution, as you can use part of it or the whole carport to turn into a porch.
Decorate with some warm and homely finishes, add some comfortable rocking chairs, bean bags and a side table, and you instantly have a cosy way to enjoy the outdoors.
Integrated Lounge and Dining Area
If you have a lot of backyard space, a large carport or an existing patio area, you will be able to create an incredible outdoor entertainment space. Add a dining table, BBQ, lounges and smaller tables to create an integrated outdoor lounge and dining area where guests can mingle, grab a drink, talk to each other and sit down for a meal. This is particularly great for large parties, where you can set up different zones so that all guests can enjoy something different at any given time.
For all of the above suggestions, make sure to use plenty of plants to create a retreat-like feel for your outdoor entertaining area. The right lighting will also make a huge difference to the ambience of your outdoor entertaining area. Fairy lights, festoon lights or standing lampposts are all great options, depending on the feel you are going for.
If you have a carport that is not being used to its full potential, try turning it into an outdoor entertaining area! With the addition of a few pieces of furniture, you can transform your space.
Author Bio:
Harry Caesar is an avid, Melbourne-based blog writer who is fond of writing on various industry niches and has composed write-ups on a variety of topics in his journey so far. The content he delivers is rich with his insightful opinions, thorough research and useful information.